Treasurer@TGSF.org Eden Will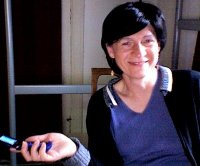 The reason i was walking up Castro Street on a cold, drizzly night in November 1999 is lost in history. There, under the Castro Theater marquee i found about 20 people holding candles and signs with names on them. I stopped to ask what was going on. I learned, to my horror, that transgender people are murdered in a much larger proportion than other populations and that the news media simply don't report that. I had already been a civil and political rights activist for years, but that night i took one of the signs (which i still have) and became a "trans activist" too.
I became the Treasurer of TGSF to share my knowledge and energy to help this wonderful organization.