The Ginny Knuth Member of the Year Award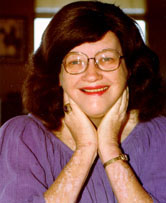 This award recognizes outstanding contribution of energy, commitment and time to TGSF, and to the transgender community at large.
The Ginny Knuth Award winner is selected by the ExCom. The winner is announced at the Annual Meeting.
Ginny Knuth passed away in 1997. She was a tireless volunteer for TGSF, and twice won the award that was later re-named for her. She was also a 1994 winner of IFGE's Trinity Award.
Past TGSF vice-president Jamie Faye Fenton has written a nice memorial about Ginny, which says, in part:
Ginny Knuth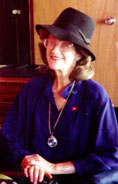 Over the years, Ginny helped organize the [TGSF] Library and archives, the production and publication of the newsletter, the monthly Poker Social, and numerous social events and meetings. After winning the Member of the Year Award several times in a row, it was decided to name it in her honor (partly to give others a chance to win it too!).
Ginny served for countless hours on the ETVC/TGSF hot line and was the first friendly soul that thousands of us encountered in our journeys out of the closet. She was always available for wives and girlfriends who were puzzled, upset, or curious about their gender-variant husbands and answered calls and correspondence from around the world.
Ginny Knuth Award Winners
1985
Diahanna Taylor
1986
Gloria Peters
Sheila Moon
1987
Trina Martina Bloom
1988
Diane Richwine
1989
Melanie Daugherty
1990
Trina Martina Bloom
Ginny Knuth
1991
Thalia Gravel
1992
Ginny Knuth
1993
Donna Freeman
1994
Sandy Kasten
1995
Julie Freeman
1996
Cindy Martin
1997
Jamie Faye Fenton
1998
Elizabeth Walters
1999
Ayme Kantz
2000
Aiyana Eveningstar
2002
Stephanie Ann Blythe
2003
Susan Laird
2004
Susan Laird
2005
Tommi Watson
2006
Bonnie Bryen
2007
Becky Benton